Inspired by my friend
Jacque
, I have decided to implement a twist on her "Life with My Sister" series. We'll see how this works out.
In our house, be have both sides of the boy-girl spectrum, girly-girly Taylor and tractor-lovin' Trace. Taylor's world is full of rainbows and butterflies, with Princesses (and Pop Stars) in sparkly dresses, and the occasional unicorn running by. Trace lives for tractors, dirt, trucks, and trains. Taylor's room is purple and pink with dollhouses, jewelry, and snowglobes. Trace's is John Deere Green and John Deere Yellow, with tractors and trains and a plush deerskin rug (that Trace pretends to kill with his "shoot gun"). Occasionally, these worlds collide. As Taylor is "The Big Sister", this normally means that Trace joins in on a tea party, or hauls Taylor's Barbies around in his vehicles (as "Taylor's ployee" - Taylor's employee).
We had a collision of worlds tonight, which went to a new level. The kids were playing, John and I were watching SuperNanny - who, by the way, has super great common sense principles to control children, which, to date, we have been unable to even partially master. They come in the living room and I look up to see this: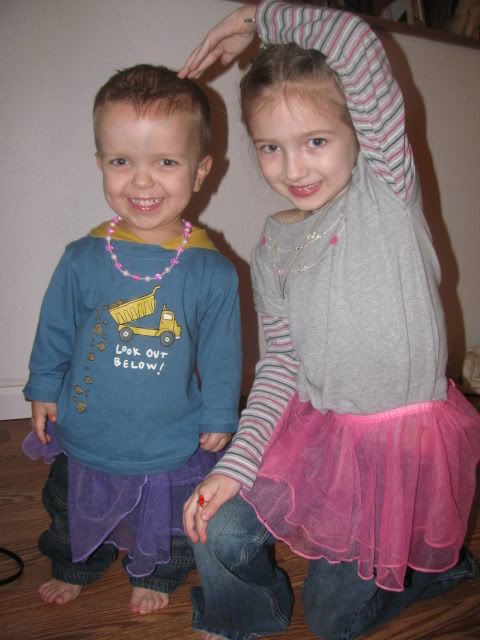 Yep, Taylor has dressed Trace up like a ballerina and has him dancing (in a most liberal use of the word) around the living room, complete with a purple tutu, necklace, bracelet, ring, and lipstick. Poor kid doesn't have a chance. And, yes, I WILL be digging this blog post out on his first date.
Enjoy the prima ballerinas in action!